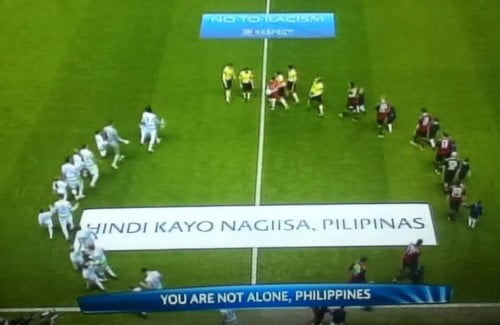 Hindi Kayo Nag-Iisa, Pilipinas Banner from EUFA
The survivors of the super typhoon Yolanda in the Philippines got a boost of encouragement from the world's most popular sport, soccer or association football as the UEFA laid down banners of support to the Filipinos.
The Union of European Football Association (UEFA) laid down banners with the message "Hindi Kayo Nag-iisa, Pilipinas" during the team's procession from the dugouts.
UEFA President Michael Platini stated on UEFA website that, "The entire European football family will stand united on the pitch this week before our matches, in order to express our deepest sympathy and full support to the Philippines," said UEFA President Michel Platini.
The UEFA website added further that "We wish them continued strength in tackling the subsequent problems following the tragedy."
The UEFA presented the banners supporting the Philipines in all of the 16 matchers of the Match Day 5 of the Champions League featuring the top European teams from various top-flight leagues in Europe.(philnews.ph)